Lifting jacks – dedicated sea container lifting solutions.
Container lifting jacks enable you to easily manage your containers. Loading and unloading of sea containers has never been easier. You can quickly move around your goods without the need to hire third party companies. Most noteworthy, it is suitable for fully loaded containers.
Lift more, work less, save money.
Benefit from your own portable crane. You only need two operators to use it. Above all, it is cheaper to operate than standard solutions.
Safety – reliable and safe operation .
Designed and built to meet the highest safety standards. As a result, you receive a product that is much safer than cranes and heavy forklifts.
Quality – equipment you can count on.
Container lifting jacks are made of high-quality steel. Load bearing structures design allows to withstand much greater weight than recommended.
Performance – lifting fully loaded containers.
This solution is not only meant to deal with empty containers. Most noteworthy it can lift loads up to 38000 kg.
Easy and convenient container lifting jacks.
This product is meant to maximize ease of operation as well as improve your workflow. As a result, operators need only short training to use these devices.
Central control unit.
You need to connect all four Lifting Jacks to the central unit. Small electric engine is driving the hydraulics. According to the load distribution, system is constantly applying correct pressure to the individual jacks.
Fast operation thanks to quality hydraulics.
Quick and reliable operation wouldn't be possible without well-designed hydraulics. Almost all our products are based on hydraulics. For the reason that, you can be sure that lifting jacks you receive will be ready to work right from the start.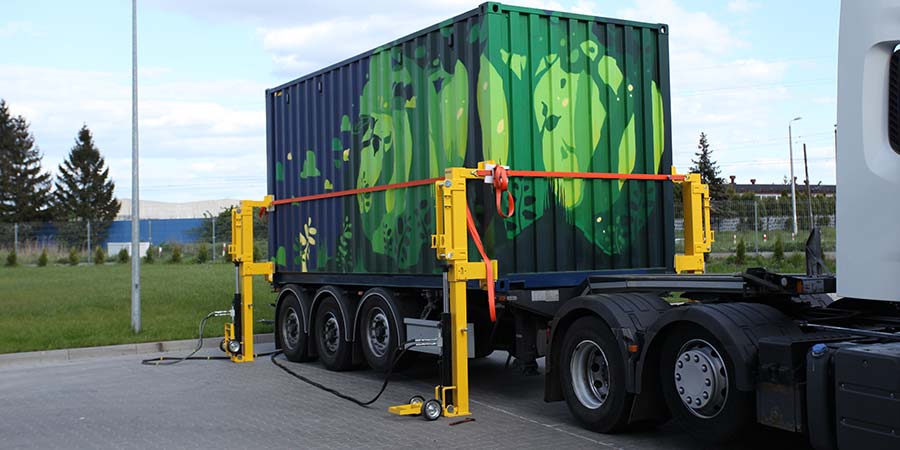 Easy loading and unloading.
Our container lifting jacks are suitable to load as well as unload containers from the trucks. All you need is a level piece of ground to begin the process.
Three steps to lift your container.
Below we present how easy it is to use this equipment. After short training, you will forget about standard solutions.
Fastening the lifts to the container.
First of all, you need to connect lifting jacks to the container. Convenient handles and wheels lets you easily move around each unit.
Connecting hydraulics and final adjustments.
Furthermore, you need to connect each lift to the central control unit. Additionally, all four lifting jacks needs to be strapped together using provided belts.
Container lifting process.
Finally, when everything is prepared, you can begin to work. All lifting and lowering operations you can do using handy levers. In addition, optional remote controller is available.
Ask for Container Lifting Jacks price!
Join our mailing list for informations about Lifting Jacks!